Toronto Income Property Newsletter – June 2019
The Raptors are in the NBA finals. Can you believe it? This series should be a lot of fun – let's hope that they can pull it off and bring Toronto a basketball championship. Every time this team looks like they're down, they fight back to life. What a run it has been so far.
I've noticed that a few properties downtown are starting to sit, whereas it seems like properties in the east districts close to downtown (E01, E02 & E03) are just flying off the shelf. Areas like Riverdale, Leslieville and the Danforth continue to be in very high demand. We don't see near as many investment properties in these areas come up for sale as do downtown.
I'd like to wish all the Dad's out there a Happy Father's Day.
– P.A.
Changes Coming to The Ontario Real Estate Act
Province is considering new measures to bring a higher level of professionalism to real estate in Ontario.
April 2019 Sales See Significant Upswing
16% Increase in Year-Over-Year Sales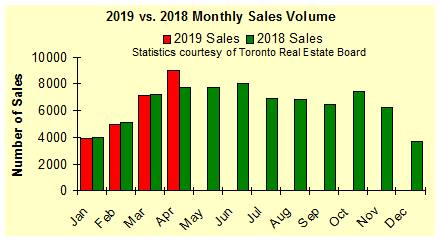 Toronto Real Estate Board President Garry Bhaura announced that Greater Toronto Area REALTORS® reported a substantial year-over-year increase in home sales in April 2019. The number of residential transactions jumped by 16.8 per cent to 9,042 compared to 7,744 in April 2018. On a preliminary seasonally adjusted basis, sales were up 11.3 per cent compared to March 2019.